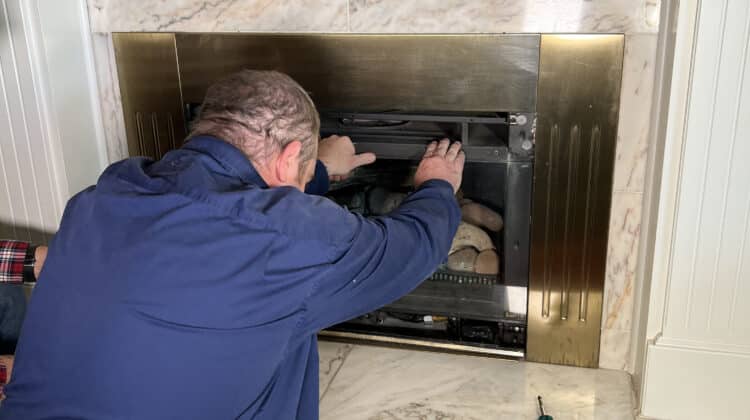 Cold Weather No Problem
Whether you've been living in a cold climate for years or the cold weather has suddenly sprung upon you, it's essential to be prepared. A change in temperature can mean a lot of things, like digging out your winter clothes and equipment and maybe completing a laundry list of "change-of-season" chores. Is fireplace maintenance on your list each year?
Yes, it's important to keep fireplace maintenance on your annual to-do list, especially in a cold climate. But we get it! Life is busy! If you are unsure of where to start, don't worry, we have you covered.
Should I Be Worried About My Fireplace?
Perhaps this year, on the first cooler evening, you thought you would get the fireplace going. And as you turned it on, or gathered the wood to start it, was there a little nagging worry in the back of your head going, "I sure hope this works"? Have you ever started your fireplace after some time and smelled that slightly acrid burning dust smell? It has happened at one time or another to most fireplace owners.
Here are some questions to ask yourself: Do you sometimes hesitate to use the fireplace because you are unsure about its safety? Or, have you recently purchased a home with a fireplace but no manual and are unsure where to begin to maintain or run it properly? Perhaps you've noticed a decline in how your fireplace produces heat but are unsure why that's occurring.
If any of these scenarios has happened to you, you are not alone. Fireplace maintenance can be hard to stay on top of. Yet, while fireplace maintenance may have fallen to the bottom of the to-do list, we know that fireplace safety is a top priority for our clients.
Why Maintaining Your Fireplace is Necessary
Fireplaces are no different from any other machine or appliance in our home; they require regular maintenance and cleaning to keep them working in top condition and working safely. Maintenance and cleaning can extend the life of your system and prevent carbon monoxide exposure. And while it's true that fireplaces are relatively low-maintenance home features, the care they do need is necessary for safety and shouldn't be put off for long periods of time.
How Often Does My Fireplace Need Maintenance?
The recommended time frame for most fireplaces is to have them inspected and cleaned annually. The fall is a great time to complete maintenance before cooler temperatures set in. But no matter the weather, is your fireplace due for some loving attention?
We here at TH Fireplaces want to help! Let us take care of it for you; we would happily schedule a maintenance call anytime. Our team loves to get fireplaces up to their peak working potential. We also love teaching homeowners the basics so they can take care of their fireplaces independently. So here are some tips to get you started!
First Things First – Fireplace Safety
The cleaning and maintenance required on your fireplace system will depend on whether it is a wood-burning or gas fireplace.  In both cases, though, it is VITAL to ensure your fire alarm, smoke detector, and carbon monoxide detectors are tested and working correctly with fresh batteries. 
Wood-Burning Fireplace Maintenace Tips
If you have a wood-burning fireplace or stove, you will need to examine the exterior of the chimney for cracks or corrosion and ensure a chimney cap is in place securely. Ash should be removed and disposed of safely, with a mask and gloves preferably, and a vacuum at the end to give it a fresh start. Clean the glass, and if needed, the exterior of your fireplace can be polished to bring back its lustre. A fireplace screen is always a good idea to prevent sparks. And, of course, you should clear any clutter from around the hearth. Another good idea is only to light a small piece of wood when you first use it after some time to ensure your smoke is venting correctly.
Gas Fireplace Maintenance Tips
Check the exterior wall above the vent of your gas fireplace. Natural gas fireplaces are designed to burn clean, without discoloration. Soot stains may indicate an issue. Next, you will want to turn on your fireplace. Is there a smell? A bit of a burned dust smell initially should be ok, but if it lingers for a while, it could signify an issue. Does the flame burn bright blue, or does it appear more yellow or orange? A bright blue flame is an excellent sign that your fireplace is working optimally. A yellow or orange flame may indicate that the airflow or fuel mixture is not correct. Sometimes that could be caused by dirty or clogged burners. But the improper placement of the ceramic logs can also be a source of combustion issues.
We Care About Your Fireplace Maintenance!
As you are running through this essential checklist, did you see anything of concern? Schedule a service appointment and enjoy peace of mind. A professional's expert advice and servicing will ensure that your fireplace is in tip-top shape and help you truly relax and enjoy this beautiful feature of your home for years to come! We are always here for you when you need it.
Yes, as much as we may grumble about cold weather, there are some beautiful things about the winter season that many of us genuinely enjoy. Getting the fireplace going on those dark winter evenings can make our home feel like a peaceful retreat. Or maybe we love to start our mornings with the fireplace on to ward off the early morning chill.
Either way, enjoying your fireplace can undoubtedly be one of the most comforting activities during the winter months, especially if it's working correctly. So please don't put it off any longer! Get that fireplace maintenance done, and then get on with enjoying it.
Stay warm, everyone!
TH Fireplace Is Here To Help
If you have any questions regarding fireplace parts or repair, don't hesitate to contact TH Fireplaces today.
Visit us at thfireplaces.ca or follow us on Facebook and Instagram.